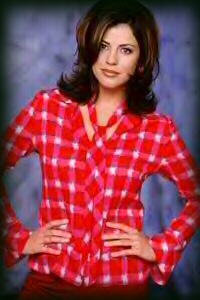 Welcome to the Julie Pinson Site. This is an UNOFFICIAL fan site.

Most of you might remember Julie on another soap PORT CHARLES. She's made a guest appearances on the Drew Carey Show and Dharma & Greg. I've been lucky enough to meet Julie at several events and she's one of the nicest people you'll ever meet. And you can tell she loves talking with her fans. I will continue to follow Julie Pinson in other projects and wish her the best of luck wherever she goes, even if it's to another show. I do plan on keeping this site up and hopefully we'll get more news on Ms. Pinson in the future. Julie if you ever come across this site, whatever you do we support you!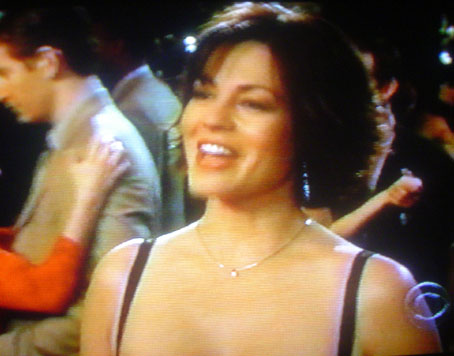 Message Board
site updates and news:
10.05.04 As many of you know Julie is now on Days of Our Lives as Billie Reed, previously portrayed by Lisa Rinna. Congrats Julie! It's great to have you see you on the tube again! On a side note, I will try to update this site when I can. I will have some pics and screen caps up as soon as I can!
02.17.04Added a message board. Come join!
02.16.04Today is Julie's first air date on Y&R. Check news below to see the screen caps.
02.12.04 Julie first air date on Y&R is Monday, February 16
01.28.04 Check out news below, more about her character



news:
-Click here to check out screen caps from Julie's debut on Y&R
-Julie Pinson (ex-Eve) has been resurrected! The Port Charles grad has joined the cast of The Young and the Restless as Shiloh, a woman who will make a connection with J.T. and his music. "We are so excited. We've been waiting to get back into daytime for some time," says Pinson's manager, Michael Bruno. Pinson, whose character was killed off PC after a five-year-run, was up for several parts after her departure. "We were very close to getting something at Guiding Light and Days of Our Lives," Bruno reveals. But the Y&R role" for which Pinson auditioned" has become a perfect fit. "It's a likable character. Smart, exciting, sassy and in the record business," Bruno teases. Added bonus is that Pinson will finally get to work alongside her daytime idol, Michael Damian, who plays rocker Danny Romalotti. "Julie used to to watch him with Lauralee [Bell (Christine)] a few years back. She's a big fan." Though the role is recurring, Pinson and Bruno both hope that Shiloh becomes a permanent fixture in Genoa City. "We would sign for 50 years," he says with a chuckle. Pinson makes her Y&R debut Feb. 16. -Thanks Desi
-From the Official Y&R Site:
Fans of the now defunct series Port Charles have yet another reason to get excited. Julie Pinson, who played the role of Dr. Eve Lambert Collins Thornhart (1997-2002), joins the cast of The Young and the Restless as the enigmatic Shilo, described by Pinson as "Hip, sexy and sassy." Pinson was kind enough to drop a few hints about her new character. "She's a music producer. She's kind of a mystery lady. We're not sure what she's doing in Genoa City." But with musical talent such as J.T. (Thad Luckinbill) around town, chances are Shilo will have her hands full in no time. Pinson had nothing but kind words to say about her new daytime gig. "Everybody has been very welcoming," she enthused. "They're all like, 'It's so good to have you here.'" Pinson also revealed that she used to watch The Young and the Restless. "I used to watch when Danny [Michael Damian] and "Cricket" [Lauralee Bell] were together. And Ashley [Eileen Davidson] was my favorite character. When her and Victor [Eric Braeden] first got together, I thought she was the most beautiful thing I'd ever seen!" When asked if she still keeps in touch with her old cast mates from Port Charles, Pinson exclaimed, "Absolutely. I'm going to call Brian [Presley; ex-Jack, PC] and Erin [Hershey Presley; ex-Alison, PC] just to let them know that I'm here at Y&R, because they're good friends with Thad." And Pinson, ever the dedicated Y&R fan, was quick and to the point when asked what she'll say when she meets Michael Damien for the first time. "I'll just drool!" she laughed.